MODELS
Y21457B Mini diam. 88 mm; length 202 mm
Y21448B Small diam. 88 mm; length 258,5 mm
Y21449B Medium diam. 88 mm; length 373 mm
Y21450B Large diam. 88 mm; length 518,5 mm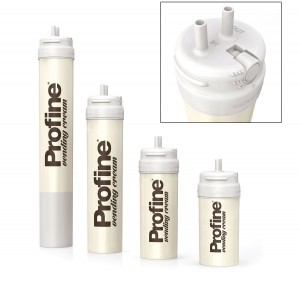 PROFINE® Vending CREAM water filter cartridge gives you:
• an excellent protection against corrosion
• reduction of carbonate hardness without changing pH level
• an extendeed capacity guarantee
• a final stage of bacteriostatic microfiltration
All these features make PROFINE® Vending CREAM ideal for use in drink machines, coffee machines, combi steamers.
IDEAL FOR COFFEE. Thanks to a multi-stage design in the exclusive formulation of the bed of specific ion exchangers, which guarantees the more extendeed functional autonomies; the cartridge PROFINE® Vending CREAM refines the water quality allowing you to have the best coffee flavor and an ideal coffee foam in color and texture.
PROTECTION OF PLANTS. In addition PROFINE® Vending CREAM also gives protection to your machine technology maintaining constant pH. It also eliminates bad tastes and odours and prevents corrosion problems of equipment.
STEM DESIGN. Thanks to the compact stem design, it is possible to connect the water circuit directly to the filter cartridge. Without the cartridge head the installation volume is reduced as 30% and any service action becomes easier.
USE. PROFINE® Vending CREAM takes part in a group of Profine® Vending products tested and designed to meet every demand in restaurant, catering and vending sectors. It's ideal for use in drink machines, coffee machines, combi steamers. The cartridge must be used only with cold drinking water.
TECHNICAL SPECIFICATIONS
Working pressure Min. 2 – Max 6 bar (0.2 – 0.6 Mpa)
Temperature Min. 4 – Max 30° C (39 – 86 °F)
Capacity in litres with Carbonate Hardness (scale) at 10° dH**
| MINI | SMALL | MEDIUM | LARGE |
| --- | --- | --- | --- |
| 450 | 700 | 1.100 | 1.600 |
**The capacity is higher than the reference one and may vary depending on conditions of use. The indicated capacities are calculated on the basis of the relationship between devices and applications in use. Due to external factors (eg variable water quality) data can vary from those indicated.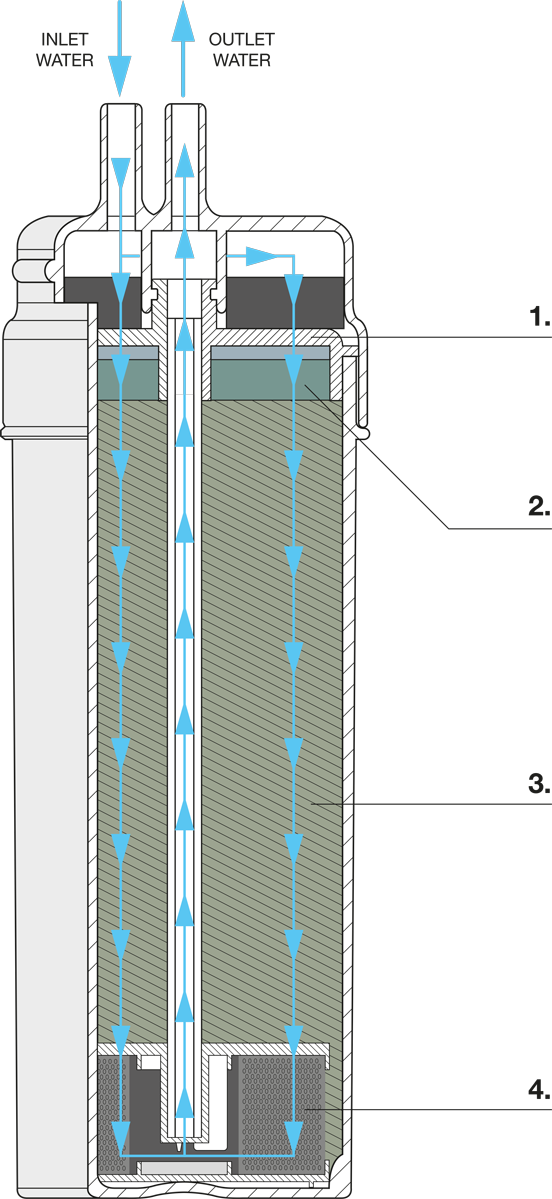 TOP TECHNOLOGY IN 4 FILTRATION STAGES:
laminated upper distributor to optimize the inlet flow
first pre-filtering stage to hold the parts in suspension
bed of exchange resins of high efficiency ion to ensure maximum exchange capacity in reduced space
bacteriostatic post-filtering step to eliminate odors and flavors and chlorine compounds and ensure action a gainst bacterial growth
---
INSTALLATION:
The cartridge must be installed in vertical position.
Installation must be done in compliance with local regulations in law.
Use only IN OUT CONNECTION 3/8".
REPLACEMENT: change cartridge after 12 months or when capacity is reached.
DO NOT DISPOSE OF THE EXHAUSTED CARTRIDGE IN THE ENVIRONMENT.
PACKAGING: cardboard box 6 pieces
Mini L x W x H: 28.5 x 19 x 22.9 cm
Small L x W x H: 28 x 20 x 28 cm
Medium L x W x H: 28 x 20 x 39,5 cm
Large L x W x H: 28 x 20 x 54 cm