1 PROFINE® KIT REPLACES 10.000 PLASTIC BOTTLES
With Profine® Silver you have good water and safe at home. The system has been tested and certified according to the domestic use, ensuring the absolute peace of mind that your family needs.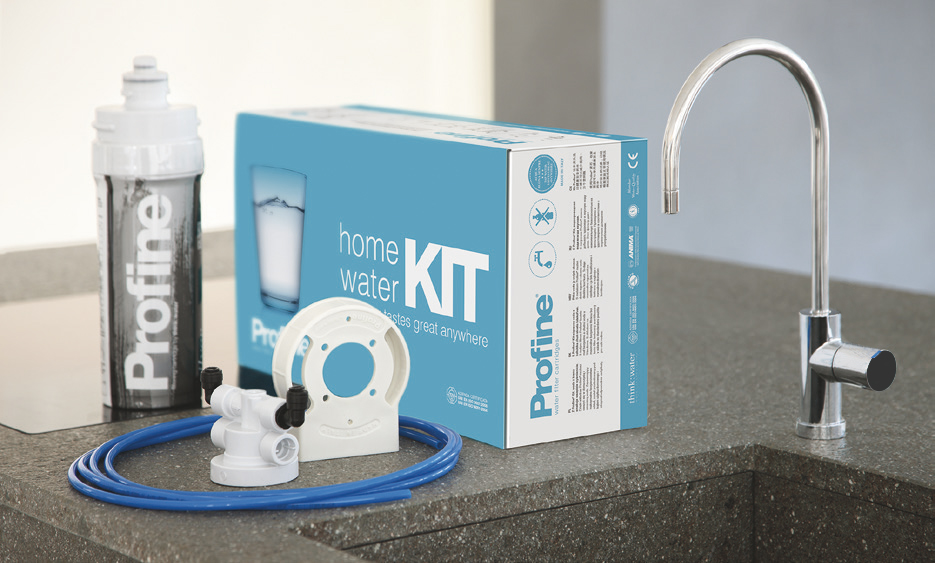 It is because the water of our home does not meet our palates that too many people are still buy bottled water. Fortunately, these days are over. Installing Profine®kit for drinking water you ensure yourself that the water of you tap is good everyday of the year. More and more families are choosing Profine® filtered water. The cartridges are inexpensive and need only be changed once per year *: when the LED of the tap turns red. Moreover, their use allows to eliminate thousands of plastic bottles that are transported every day in our streets!
(*we recommend you to chance the cartridge after 10.000 litles or 1 year of use ).
With Profine® technologies you are extreme safe!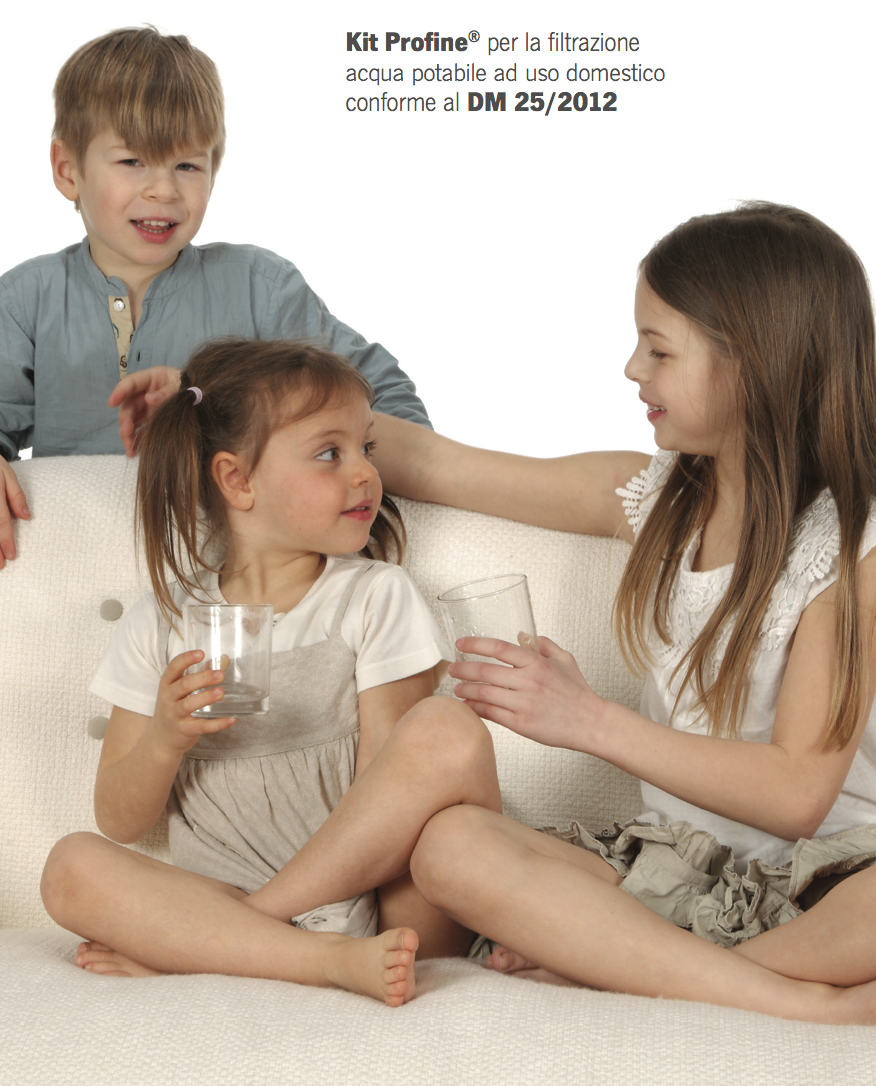 Profine®kit was designed and tested simulating its use by a family. The system was subjected to four months of intensive testing that could reproduce even the holiday periods from one day to one month. The filtered water was subjected to the test through multiple chemical, physical and microbiological analysis.
Profine® kit worked flawlessly, so much so that he has been granted the prestigious certification Italian Institute for Hygienic Quality of Food Technology (Tifq).

It is with pride that we list the results of the analysis carried out in the TIFQ laboratories:
– the filter absorbs 90% of the chlorine in the water,
– No bacteria was found, even after periods during which the filter has not worked for the holidays,
– After breaks of 30 and 60 days, it has not detected the presence of Pseudomonas aeruginosa,
– The cartridge has been able to treat 10,000 liters, continuing his performance.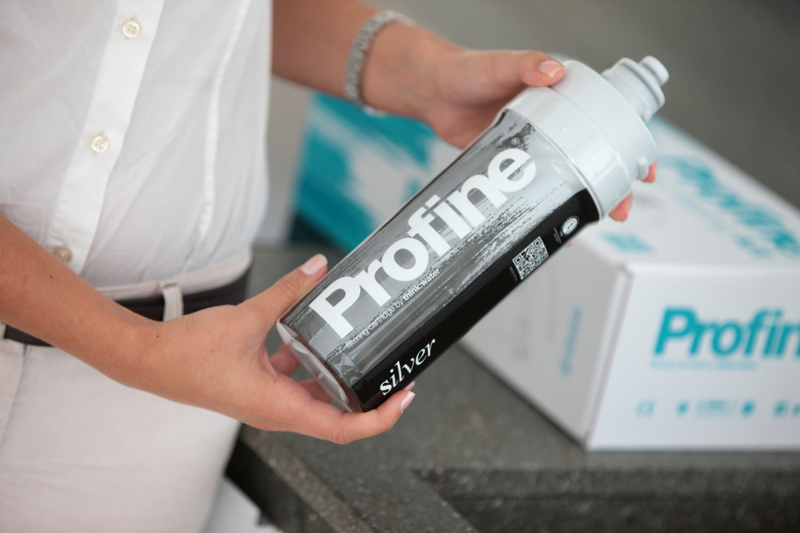 PROFINE®, A NATURAL ACT
The incomparable performance of Profine® Silver is due to its high internal technology. A high-quality selected carbon block added with compressed silver to form a solid barrier in order to achieve a microfiltration.
The high quality of all the products of Profine®, including the line of cartridges, has enabled the company to reach Italian ISO 9001 certification for quality and ISO 14001 for environmental safety.
FOR PROFINE® TECHNICAL SPECIFICATION SILVER SMALL CLICK HERE
CAUTION: This appliance requires regular maintenance to ensure the requirements of potability of the treated drinking water and the maintenance of the improvements as stated by the manufacturer; use according to the user manual.
Make a sustainable choice.
Below the LABEL OF WATER with the Profine®Kit and Profine® Silver cartridge
| PARAMETER | BEFORE | AFTER |
| --- | --- | --- |
| Conductivity μS/cm | 276 – 328 | 272 – 335 |
| pH | 8.2 – 8.3 | 8.1 – 8.4 |
| Hardness °F | 15.3 – 15.9 | 13.7 – 16.3 |
| Chlorine att. mg/l | 0.09 – 0.12 | 0.02 – 0.04 |
| Alluminium mg/l | 0.006 – 0.012 | 0.0004 – 0.002 |
| Ammonium mg/l | 0.00 | 0.00 |
| Silver mg/l | 0 | < 0.0068 |
| Iron mg/l | 0.15 – 0.17 | 0.0003 – 0.0005 |
| Sulphate mg/l | 29.1 – 30.6 | 23.9 – 28.1 |
| Colonies 22-37°C | no abnormal changes after 60 days of inactivity | no abnormal changes after 60 days of inactivity |
| Bact. Colif. 37°C | 0 UFC/250 ml after 60 days of inactivity | 0 UFC/250 ml after 60 days of inactivity |
| Pseudom. Aerug. | 0 UFC/250 ml after 60 days of inactivity | 0 UFC/250 ml after 60 days of inactivity |
Chemical, physical and microbiological analysis performed by TIFQ Lab