blue
Profine® filter cartridge
With Blue you choose the taste of your water. The Blue cartridge in addition to remove the material in suspension, gives your water a pleasant taste. With the 5 microns Carbon Block filter, Blue guarantees you finely filtered and dechlorinated Water. The reduction of organic compounds also guarantees you clean Water!
Water, filtration and taste & odor removal
PROFINE® BLUE reduces turbidity, chlorine content, off-tastes and odours. It has a filter rating of 5 microns. It is a quick-connect cartridge produced with extruded Profine® Carbon Block filtration in compliance with EU Directive 98/83/EC. For use in process systems and/or household appliances. If the cartridge is used in equipment to treat water intended for human consumption, the equipment must meet the drinking water standards.
TECHNICAL SPECIFICATIONS
SMALL
MEDIUM
LARGE
Operating flow rate
3 l/min *
5 l/min *
7 l/min *
Working pressure
Min. 29 – Max. 87 Psi
Min. 29 – Max. 87 Psi
Min. 29 – Max. 87 Psi
Temperature
Min. 4 Max. 30°C

(39-86°F)

Min. 4 Max. 30°C

(39-86°F)

Min. 4 Max. 30°C

(39-86°F)

Capacity
15.000 l *
24.000 l *
45.000 l *
Installation: upright or horizontal, as preferred
* Flow rate and capacity can vary, even to a considerable extent, depending on the quality of the incoming water.
WARNING: use in accordance with the directions.
DIMENSIONS
External diameter: 87.4 mm Small cartridge high: 269 mm Medium cartridge high: 384 mm Large cartridge high: 529 mm
DISPOSE OF THE SPENT CARTRIDGE RESPONSIBILY
Dispose the exhausted cartridge in compliance with Decision 2000/532/CE (code 15 02 03 EWC).
CARTRIDGE REPLACEMENT INSTRUCTIONS
1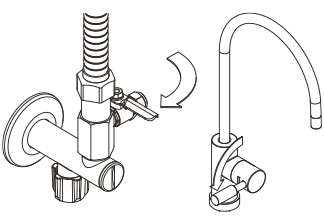 Close the water inlet valve and open the outlet valve.
2
Turn the cartridge a ¼ turn to the left and pull it out.
3
Remove the cap seal and moisten the O-rings with water. Push the cartridge up and turn it a ¼ turn to the right.
4
Open the water inlet valve and allow the water to run for 5 minutes before takingany.