yellow
Profine® filter cartridge
Yellow is demineralization! Do you need to remove all salts and minerals? Choose the Yellow Cartridge to have demineralized Water. Total removal of salinity is possible with the mixed bed  resin.
For the production of demineralized water for technological uses
Warning: not for drinking water use
PROFINE® YELLOW ion-exchange resin filter (using cation and anion resins) designed for the total demineralization of water. It features a quick-connect cartridge with a mixed-bed demineralizing resin.
TECHNICAL SPECIFICATIONS
SMALL
MEDIUM
LARGE
Functional flow rate
1 l/min*
1,5 l/min*
2 l/mi*
Working pressure
Min. 29 – Max. 87 Psi
Min. 29 – Max. 87 Psi
Min. 29 – Max. 87 Psi
Temperature
Min. 4 Max. 30°C

(39-86°F)

Min. 4 Max. 30°C

(39-86°F)

Min. 4 Max. 30°C

(39-86°F)
Installation: upright. R head is required
WARNING: use in accordance with the directions.
* Depending on the quality of the incoming water flow rates can vary considerably
DIMENSIONS
External diameter: 87.4 mm
Small cartridge high: 269 mm
Medium cartridge high: 384 mm
Large cartridge high: 529 mm
DISPOSE OF THE SPENT CARTRIDGE RESPONSIBILY
Exhausted cartridges qualify as municipal solid waste and must be disposed of as prescribed by the relevant local authorities and in compliance with current legislation.
CARTRIDGE REPLACEMENT INSTRUCTIONS
1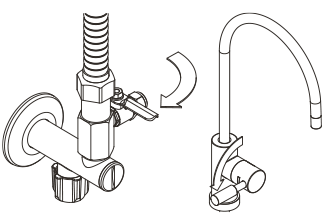 Close the water inlet valve and open the outlet valve.
2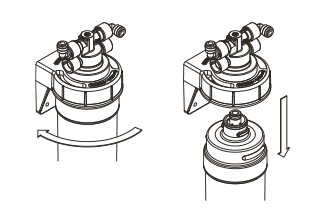 Turn the cartridge a ¼ turn to the left and pull it out.
3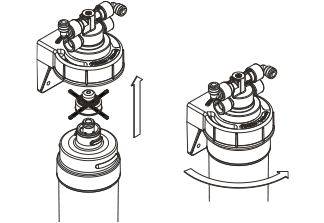 Remove the cap seal and moisten the O-rings with water. Push the cartridge up and turn it a ¼ turn to the right.
4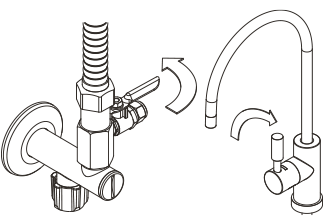 Open the water inlet valve and allow the water to run for 5 minutes before taking any.
| | SMALL | MEDIUM | LARGE |
| --- | --- | --- | --- |
| Flow rate (l/min) | 1 | 1.5 | 2 |
| Total exchange capacity (eq) | 0.4 | 0.6 | 0.9 |
| Cap. 100 mg/l CaCO3 (l) | 205 | 307 | 460 |
| Cap. 150 mg/l CaCO3 (l) | 136 | 205 | 307 |
| Cap. 200 mg/l CaCO3 (l) | 102 | 153 | 230 |
| Cap. 250 mg/l CaCO3 (l) | 82 | 123 | 184 |
| Cap. 300 mg/l CaCO3 (l) | 68 | 102 | 153 |
| Cap. 350 mg/l CaCO3 (l) | 58 | 88 | 132 |