violet
Profine® filter cartridge
The Cartridge for Ho.Re.Ca. and Coffee Machines.  Add prestige to your hotel and restaurant facilities. Use Violet with its carboxyl ion exchange resin that reduces the temporary hardness of Water. Completely removes scales due to limestone deposits. The Violet protects you and your plants.
Reduces temporary hardness
PROFINE® VIOLET designed to reduce the temporary hardness of drinking water. Quick-connect cartridge with carboxylic weak cation resin mixed with granular carbon, featuring final
Profine® Carbon Block stage with silver ions. If the cartridge is used in food processing equipment, the whole system must comply the EU regulation 178/2002.
TECHNICAL SPECIFICATIONS
Installation: upright.
SMALL
MEDIUM
LARGE
Function flow rate
1,5 l/min *
2 l/min *
2,5 l/min *
Working pressure
Min. 29 – Max. 87 Psi
Min. 29 – Max. 87 Psi
Min. 29 – Max. 87 Psi
Temperature
Min. 4 Max. 30°C
(39-86°F)
Min. 4 Max. 30°C
(39-86°F)
Min. 4 Max. 30°C
(39-86°F)
Theoretical capacity according to nominal ion-exchange resin capacity (Hardness 10 °dH)
700 l
1.100 l
1.600 l
WARNING: use in accordance with the directions.
DIMENSIONS
External diameter: 87.4 mm
Small cartridge high: 269 mm
Medium cartridge high: 384 mm
Large cartridge high: 529 mm
DISPOSE OF THE SPENT CARTRIDGE RESPONSIBILY
Dispose the exhausted cartridge in compliance with Decision 2000/532/CE (code 15 02 03 EWC).
CARTRIDGE REPLACEMENT INSTRUCTIONS
1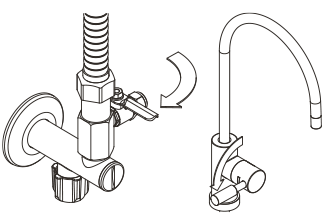 Close the water inlet valve and open the outlet valve.
2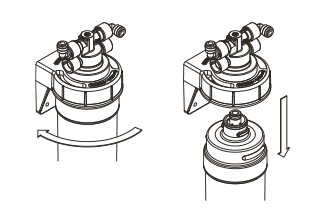 Turn the cartridge a ¼ turn to the left and pull it out.
3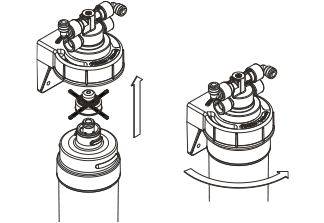 Remove the cap seal and moisten the O-rings with water. Push the cartridge up and turn it a ¼ turn to the right.
4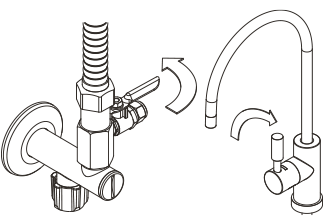 Open the water inlet valve and allow the water to run for 5 minutes before taking any.