arsenic
Profine® filter cartridge
The  Arsenic Free system combines compactness and high technology. With a simple and quick installation, it is extremely efficient in removing arsenic to the point of usable water. Its special formulation is absolutely selective against arsenic in its various forms. The performance of the Profine Arsenic Free cartridge is not affected by other unwanted substances; arsenic, once removed, will no longer be released in any way, thus ensuring the highest quality of service. With the Arsenic Free system, chlorine-compounds, tastes and odours are also removed from drinking water.
Water, filtration and taste & odor removal
PROFINE® ARSENIC is suitable for drinking water that exceeds the Arsenic concentration limit (III and V type). This is a quick-connect cartridge with resin filter for absorbing arsenic. The resin meets NSF 61 and WRAS standards; the rest of the components that come into contact with water meet the relative drinking water requirements. Usable at point
of use for the removal of arsenic from water with a concentration until 50 μg/l.

TECHNICAL SPECIFICATIONS
SMALL
MEDIUM
LARGE
Functional flow rate
1 l/min*
1,5 l/min*
2 l/mi*
Capacity
10.000 l *
15.000 l *
20.000 l *
Working pressure
Min. 29 – Max. 87 Psi
Min. 29 – Max. 87 Psi
Min. 29 – Max. 87 Psi
Temperature
Min. 4 Max. 30°C

(39-86°F)

Min. 4 Max. 30°C

(39-86°F)

Min. 4 Max. 30°C

(39-86°F)
Installation: upright. R head is required.
* Depending on the quality of the incoming water flow rates can vary considerably
WARNING: use in accordance with the directions.
DIMENSIONS
External diameter: 87.4 mm
Small cartridge high: 269 mm
Medium cartridge high: 384 mm
Large cartridge high: 529 mm
DISPOSE OF THE SPENT CARTRIDGE RESPONSIBILY
Exhausted cartridges qualify as municipal solid waste and must be disposed of as prescribed by the relevant local authorities and in compliance with current legislation.
CARTRIDGE REPLACEMENT INSTRUCTIONS
1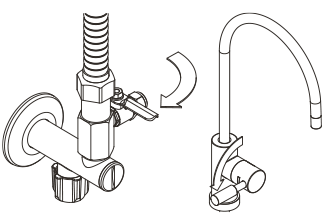 Close the water inlet valve and open the outlet valve.
2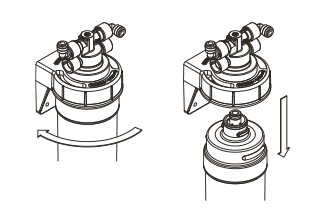 Turn the cartridge a ¼ turn to the left and pull it out.
3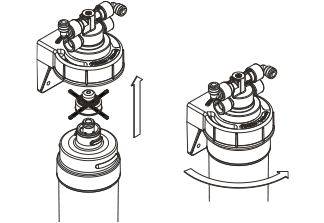 Remove the cap seal and moisten the O-rings with water. Push the cartridge up and turn it a ¼ turn to the right.
4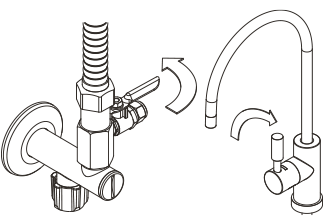 Open the water inlet valve and allow the water to run for 5 minutes before taking any.